SHIITAKE [pronounced "shee-tah-kay"]
Exotic mushroom with medicinal and preventative effects
(Lentinus Edodes)
Thanks to its delicious taste and intense aroma, shiitake – still rather exotic for us – has gained recognition as "the pearl among mushrooms". Its popularity and consumption has been rising year on year not only in the Far East but also in the U.S. and Western Europe.
And now you can grow shiitake from cultivation logs on your own! Apart from shiitake you can also grow other sorts of mushrooms (oyster mushroom, nameko, eringi, pioppino, coral snake ). In addition, spawn for all of them are also available from us (tel.: 274772809, e-mail).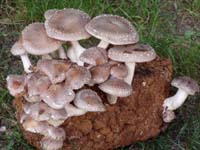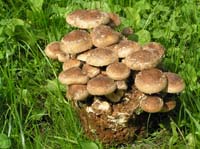 Shiitake, or "the oak mushroom" (shii = oak; take = mushroom), has been highly valued in the Orient for its outstanding taste and striking health improvement effects. Grown predominantly in Asia, shiitake is indeed very tasty – even tastier and more aromatic than our boletus and other white mushrooms. It is highly dietetic, but unlike the "common" mushrooms, it contains large amounts of proteins, B12 vitamin, as well as enriched ions and minerals (proteins constituting 18% of contents, potassium, niacin, B vitamins, calcium, magnesium, phosphorus, essential amino acids, etc.) In a purely natural way shiitake stimulates resilience of the immune system, provides antiviral protection, lowers the level of cholesterol in blood, and regulates the blood pressure. Research teams of S. Suzuki and Oshima have established that fresh shiitake, if used on a regular daily basis for a period of one week, will bring down cholesterol in blood serum by 12%. In a concentrated form as an extract (powder, pills, drops) shiitake is used for treatment of cancer, AIDS, diabetes, respiratory disorders etc.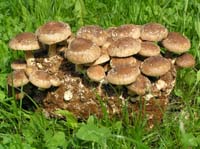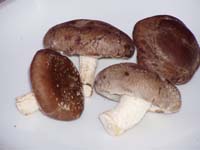 The cap of shiitake is light brown or brown, the color being uneven, occasionally with white spots. The cap may be between 1 to 10 cm in diameter. Having its origin in Japan, shiitake is popular not only for its excellent taste and unique flavor but also for the contents of substances with positive impact on human organism. It has been proven that regular consumption of shiitake helps reduce the level of cholesterol in blood, suppress the risk of high blood pressure and stimulate the overall resilience of organism against virus diseases. According to some international sources, regular intake of shiitake helps prevent tumor diseases.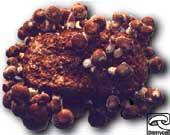 Instructions to prepare meals from our mushrooms. Instructions on the cultivation of the blocks.


Small orders for delivery by mail after the Czech Republic to be dealt here.